Engage.
build soft skills.
Save Time.
Provide a unique opportunity for students to apply political science concepts while building valuable skills that benefit them in their future careers.
Congratulations to Dr. Maryann Gallagher for being the keynote speaker at the 2023 Political Science Pedagogical Conference. She has been running Statecraft at UGA since 2014 and has some of the most exciting and engaged classes we see each semester.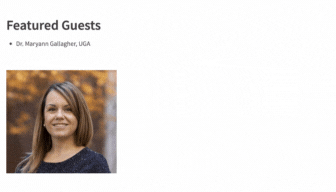 Andy Tuholski now the Experiential and Active Learning Award at Indiana University Kokomo for his use of Statecraft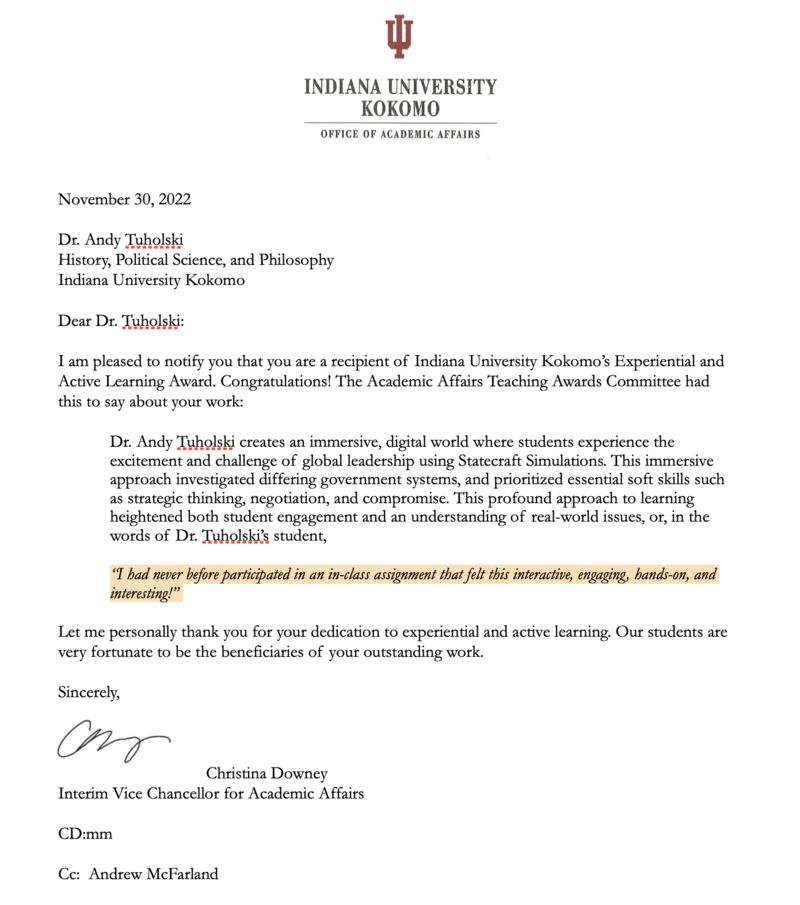 Effective teaching tools used worldwide built by simulation fanatics
At Statecraft, we're passionate about making learning fun. We've been immersing students in the art of government and diplomacy for the past 11 years and have helped instructors facilitate unforgettable classes for thousands of students all over the world! 
LEARNING OUTCOMES YOU CAN EXPECT WHEN USING STATECRAFT simulations
Knowledge acquisition, construction, integration and application
Practical competence in real-life applicable skills

Intrapersonal development
EIGHT epic statecraft products:
Instructors rated Statecraft Customer Service 4.72 of 5 stars in the Spring 2021 User Satisfaction Survey
Excellent Customer Support
"IT ILLUSTRATED SO MANY OF THE CONCEPTS"
I first used the IR Statecraft during a summer International Relations course. It was a great way to utilize some of the time out of an almost 3 hour long, 5 day a week course. The students were able to figure out the game easily. It illustrated for them so many of the concepts that we were reading about and discussing in class. And (most importantly) it was easy for me to set up, run, and keep track of. I've used Statecraft in every Intro to IR course, and Intro to International Security course I've taught since.

When I started teaching American Government classes, I immediately sought out some sort of simulation game for my students to play. I tried one or two other games before Statecraft came out with it's American Government Sim. The other games were unwieldy and required a LOT of work on my part to set up and run the simulation. And students just didn't get engaged. When I found out that Statecraft was working on an American Government Sim, I was so excited, I signed my next course up to beta test it! The American Government Sim has all the important hallmarks of the IR Sim. It's easy for me to set up, run and keep track of. Students can get VERY invested in the game. And it helps illustrate things like separation of powers, checks and balances, and other important concepts that we discuss in class. Most importantly for me, the American Government Sim doesn't go easy on the students. They come out of it realizing just how difficult it must be for our leaders in government, the media, and interest groups to do their jobs, and how competing interests can make what seems like a simple decision, much more complicated.

I 100% recommend the Statecraft sims to IR and American Government teachers and professors!
Experience Statecraft Today
"A GREAT TEACHING TOOL"
I use Statecraft whenever I teach the Introduction to International Relations course. Statecraft has been a great teaching tool to reiterate important concepts from the text that makes the learning experience enjoyable for students. It enables greater interaction in the classroom and generates interesting debates on competing domestic and foreign policy goals. Students come away with a better understanding of the complexities and challenges of policy making. It is a very useful active learning tool that students can benefit from tremendously.
"A REMARKABLY RICH SIMULATION"
Statecraft accomplishes the difficult feat of simultaneously engaging student interest and exemplifying important principles of international relations theory. It provides a remarkably rich simulation of world politics that practically runs itself with no need for time-consuming instructor intervention, while still allowing teachers of more specialized courses ample opportunity for customization. I recommend Statecraft without reservation to all instructors of undergraduate international relations.
"AN EXCELLENT ADDITION TO MY CLASS"
Statecraft was an excellent addition to my international relations course. The simulation ended up appealing to every student in the course, including students from seemingly unrelated majors and backgrounds. It seemed to teach itself and the intuitive interface meant that the class was able to get involved very quickly and easily. I plan on using Statecraft each time I teach International Relations.
Statecraft Project LeaderMaker
As a company, we are passionate about student success! Our mission is to engage students in social science topics in a way that ignites their curiosity, excitement for learning, and social skills regardless of their learning styles or socio-economic disadvantages. In the spirit of this mission, we founded the Statecraft Project LeaderMaker, which donates simulation accounts to low-income high schools. 
The number of accounts donated is determined by evaluating school's free lunch percentage and unique budget constraints. Contact Joe at [email protected] to learn more about the program. 
Sign up for the Statecraft Newsletter and we'll send you product updates, simulation tips and exclusive offers straight to your inbox!